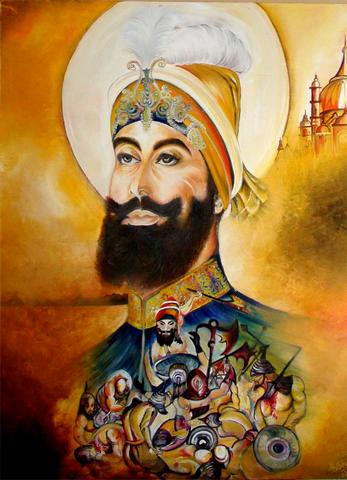 Oil canvas (picture taken from Mighty Sikhnet)
I have to tell you what I have discovered lately !!! I think and hope
Paramjeet Kaur
is the next modern
Shobna Singh.
I'm so impressed with the selection of the colours and her brush stroke. I think she will make many Sikhs proud. Please visit
Paramjeet's art gallery at Yessy
.
I was lucky enough to get an answer from Paramjeet. Here is what she says:
"I see world as a temporary phase and illusion. My eyes are focused on a dimension which is not tied to time, rule or place. Love to have freedom of thoughts.. "
Who is your biggest inspiration?
Courage and happy heart inspires me to develop within myself.
My Dad Sr. Kuldeep Singh Ji (who is an amazing poet, lyricist,who holds in depth keen knowledge about Sikh history) and our Great Sikh culture with bright and colorful spirit are my Inspirations. Love for our Gurus and their messages too keep me going which helps me to stroke that on canvas with colors and style.
How many paintings have you sold?
I have sold more then 18 paintings in three shows,one buyer would buy 5-6 paintings at a time.
Do you just paint one-off paintings or you do duplicates of them?
In reality believe me Gurugobind Singhji's painting was my very first portrait i ever made, yes i was trying to copy our great Sobha singhji's work . I literally prayed, took gurus blessing and just gave a start and I was happy when it turnout to be at least good. Gurus paintings are the only paintings which I copied rest all are my own. As per my knowledge my friends, relatives, family members are elated with the path I am going on.
What is the reaction of Sikh/non-Sikh community about your art?
Non sikhs, American, Pakistanis they all are my buyers . Yes when ever i have local show with the community,people do see you with one eye that speaks of art.
I would like to wish Paramjeet good luck and inspiration. I really like her paintings and even thinking of may be getting one for myself... Who knows?
By the way if you are are lover of Sikh art, I personally want to recommend one book. It's called
New Insights into Sikh Art
. It's a beautiful book which gives insight to Sikh art. Thanks to the lovely book salesman who sold me this book near Golden temple. It's a good addition to my library. Recommended!