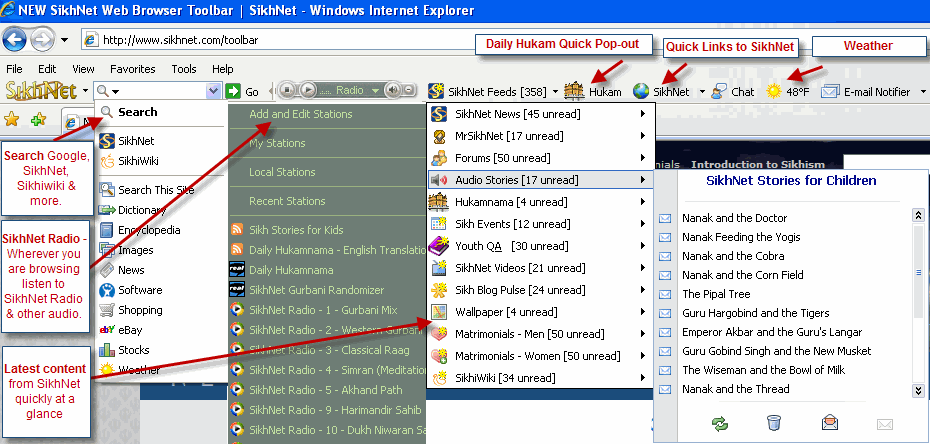 Somehow I missed the news about new creation from Sikhnet: Sikh Net Web Browser Toolbar.
They always come up with great things.


This tool bar for your web browser allows you to quickly keep up to date with the latest from SikhNet all in one place, without going to SikhNet.
SikhNet Radio and Gurbani - Small integrated audio player in the toolbar that allows you to tune into all the SikhNet Radio Channels, audio Hukamnama, latest Sikh Audio Stories, Gurbani Randomizer, Live Kirtan from Gurdwaras around the world, local radio stations and your own custom ones as well!
Search - Default Google search box along with ability to quickly search SikhNet, SikhiWiki and other sites directly from the toolbar.
Daily Hukamnama - With the tool bar you can view a simplified version of the hukamnama page without going directly to SikhNet.
Latest Content from SikhNet - At a glance you can scan the headlines of all the latest content on SikhNet in the different sections of SikhNet (News, Forums, Events, Videos, Wallpaper, Matrimonial Listings, SikhiWiki, Audio Stories, etc)
Weather - You'll always have the latest local weather at your fingertips with temperatures and forecasts.
Email Notifier- Configure your different email accounts with the toolbar to get notified when you have new email.
Quick SikhNet Links - Links to some of the popular sections on SikhNet.
Instant notifications - Keep up to date on any important events or news.

Live Chat - There is live chat feature to chat with other toolbar users.
Auto Update - Another cool thing is that you only have to download it once. Any improvements we make to the the toolbar will automatically get updated (without having to re-install/upgrade).